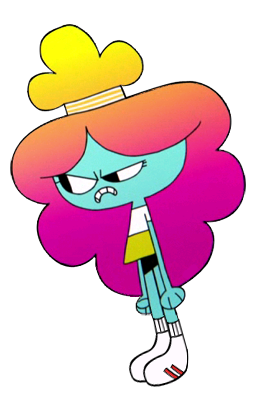 Rachel
is a minor character in The Amazing World of Gumball. She is Tobias' older sister. She was
Darwin
's second love interest.
Appearance
Edit
Rachel's general appearance is similar to her younger brother's and mother's, but she more closely resembles her mother because of her humanoid stature, compared to Tobias' cloud physique.
Her skin is blue in color, and her hair fades from yellow to magenta. Like the rest of her family, Rachel has a headband on her hair.
Rachel's usual outfit consists of a white t-shirt, chartreuse skirt that has a black shadow under it and a pair of white sneakers with red stripes.
Fanfiction Appearances
Edit
Ad blocker interference detected!
Wikia is a free-to-use site that makes money from advertising. We have a modified experience for viewers using ad blockers

Wikia is not accessible if you've made further modifications. Remove the custom ad blocker rule(s) and the page will load as expected.