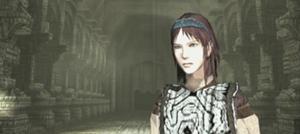 Wander
is the protagonist of
Shadow of the Colossus
. A young man with a clouded past, he travels to the Forbidded Lands on horseback in order to resurrect a girl named Mono. Dormin, a mysterious voice presiding over the Lands' central Shrine of Worship, gives Wander a deal: if he can slay the sixteen colossi that reside in the Lands, Mono will be resurrected.
Fanfiction Appearances
Edit
Ad blocker interference detected!
Wikia is a free-to-use site that makes money from advertising. We have a modified experience for viewers using ad blockers

Wikia is not accessible if you've made further modifications. Remove the custom ad blocker rule(s) and the page will load as expected.